Back
CYCLING - Gacka, Otočac
The cycling trails in the Otočac and Gacka River region are 30 to 50 kilometres long and each one has its own theme and attraction that can be seen and visited along the trail.
The shortest trail is Three Lakes (1) that starts from Vivoški Bridge. It is of average challenge with the highest point being 590 metres above sea level. The trail is partly paved and partly macadam.
Dabar Breviary Trail (2) is very demanding. It is more than 37 kilometres in length and climbs up to 7,985 metres above sea level. The trail is paved for about thirty kilometres and the rest is macadam. It acquired its name from the breviary that appeared in Dabar locality, not far from Otočac. The ride is along the least known road direction towards Plitvice Lakes whereby one can see some smaller springs and mills at the entrance to the village dominated by the church of St. Michael dating from 1730. Osman-aga Field is on the way and it acquired its name from the seriously wounded Turkish general Osman-aga. According to legend, the Turkish general hid after the battle in a hollow trunk in the field and died there. Ursa Major (3) cycling trail is dedicated to the European brown bear and leads in the direction of Kuterevo, the Velebit shelter for young bears. Barkanov Trail (4) is long but of average difficulty for cycling and with many points of interest, cultural monuments and natural attractions of Gacka, one of our most beautiful rivers. Jurjeve Rocks (5) are located between Otočac and Vrhovine, and that pass, or gorge, is actually located above Doljani and can be seen from the road that leads to Vrhovine. It is known for the greatest Croatian victory over the Turks back in 1663. The longest cycling trail is Hajdučke drage (6), a total of 52 kilometres that starts from the town park in Otočac. It is a demanding trail that climbs to 871 m above sea level. The ride is on paved road with a remaining third of the trail on macadam. The so-called Kopija is on that trail, and it is a three-border point of the Velebit localities of Kuterevo, Krasno and Kosinj and the Shelter for Young Bears in Kuterevo.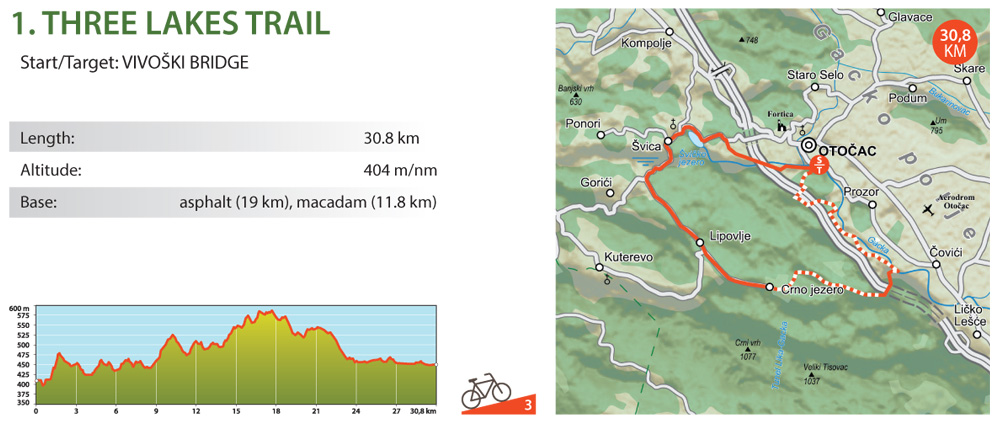 Points of interest
Muzej Gacke ,crkva Presvetoga Trojstva, crkva uzvišenja Sv. Križa, Rimski kamenolom
Kameni most, vrelo potoka Jaruga, crkva sv. Mihovila, Osmanagino polje, Vidikovac Milankovac
Karlov kanal, Gornje Švičko jezero, crkva Ivana Krstitelja, velebitsko utočište za mlade medvjede – Kuterevo