Back
CYCLING - Gospić
Eight cycling trails, 397 km in length, under the common name "The Trails of the Velebit and Croatian Giants" connect the surrounding localities with Gospić lead up to Štirovača, a wide valley at the foot of the Velebit.
The first two trails (1 i 2) from Gospić to Smiljan lead to the birthplace of the world known scientist, Nikola Tesla, where the Memorial Centre is located containing some of the works that marked the tecnological development of future generations. At the end of the trail, at about 26 km from Smiljan, Veliki Žitnik locality is reached and ithe is the birthplace of the Croatian politician and patriot dr. Ante Starčević.
Jezero Trail (3) leads to the locality Klanac without great effort, and only two kilometres further an imposing view opens to the Lika River Canyon and the artificial Kruščica Lake. The very demanding Štirovača Trail (4) is 100 km long and crosses numerous interesting points. One is Pazarište locality where a beer brewery is situated and nearby an Indian village. Štirovača follows, a valley with Kugina House (at a height of 1180m) in its proximity where one can spend the night and drink water from Težakovac source.
Brušane (5) and Rizvanuša (6) trails are more demanding ascents and both lead to the adrenalin park of Rizvanuša, which is a real paradise for adventurers of all ages. Velebit (7) Trail leads along the old Terezijana Road built in 1786 during Austro-Hungarian rule and then to the last village of Baške Oštarije on Velebit. The route Gospić – Jadovno (8) was designed to pass Jadovno village and the marvellous scenery that encircles it. In Jadovno there is an interesting chapel dedicated to Mary the Assistant in the very centre of the village and an inexhaustible source of drinking water is Stojanovo vrilo (spring).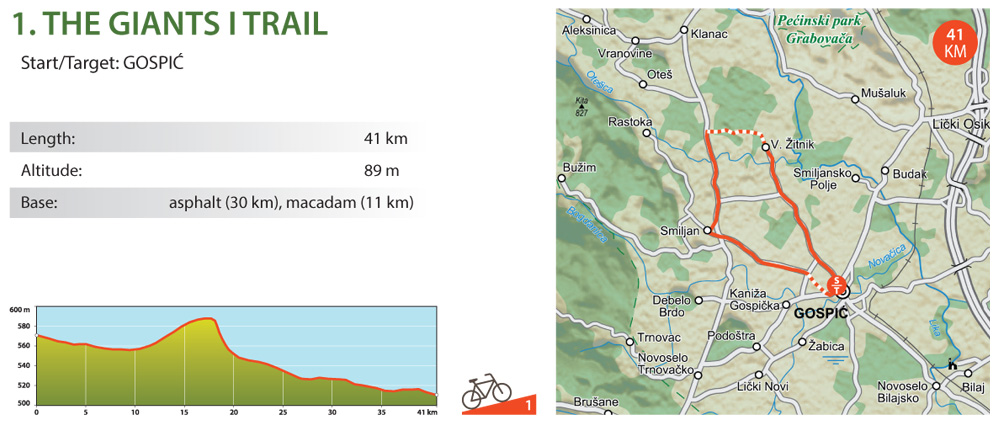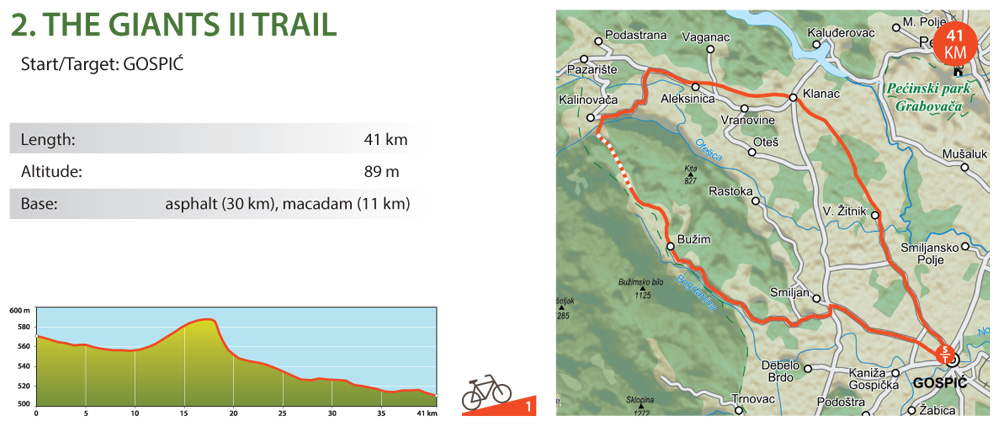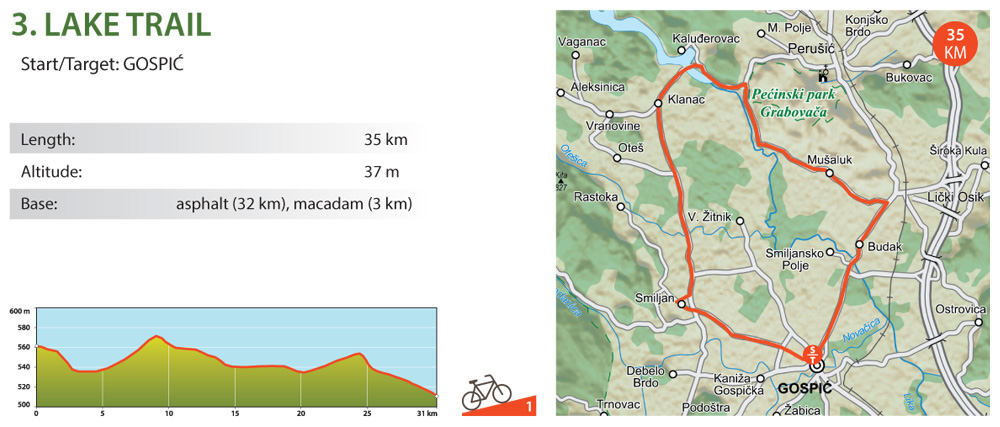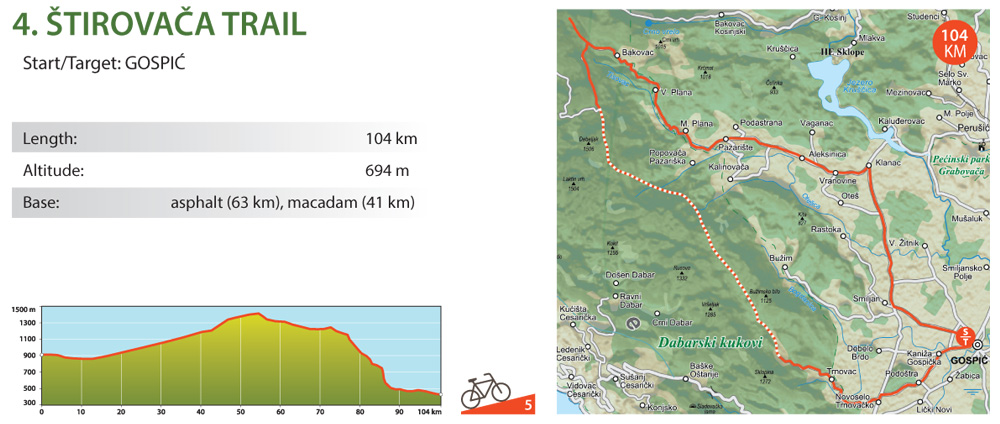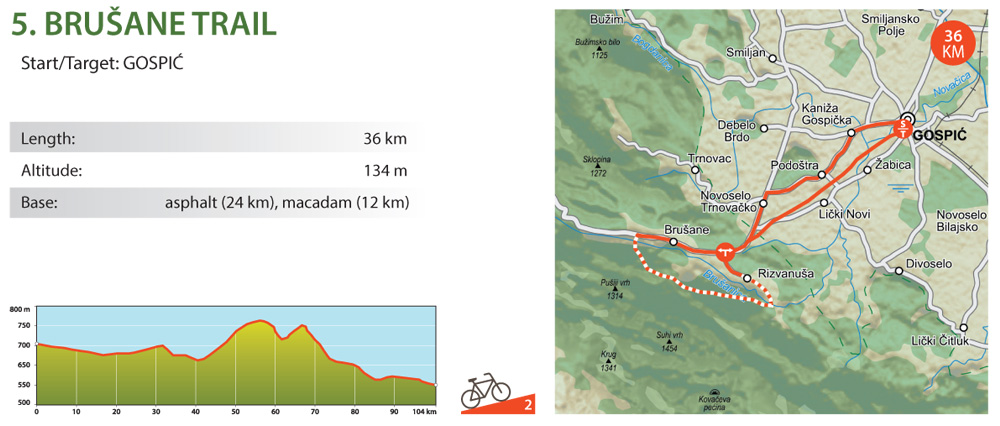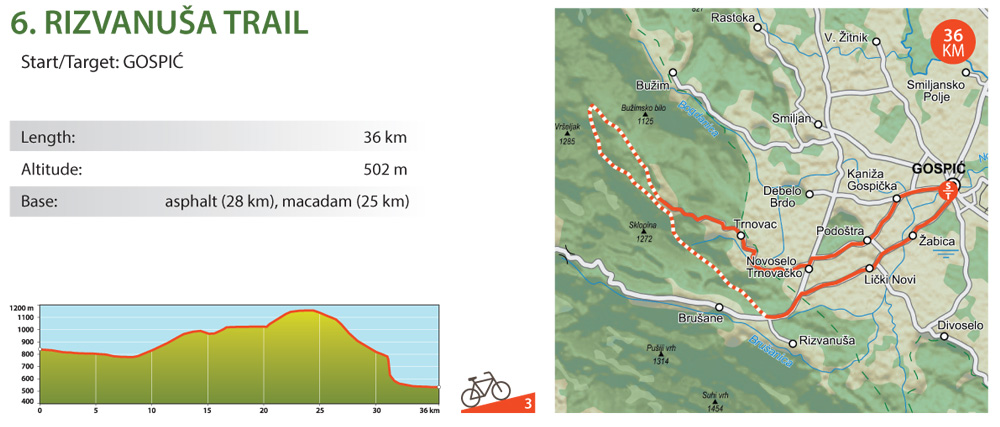 http://www.tz-gospic.hr/biciklisticke_staze.html
Points of interest
City of Gospić
Lika Museum and Kolakovac Park
Smiljan
Nikola Tesla Memorial Centre
Veliki Žitnik
dr. Ante Starčevića Memorial Home, Croatian politician, publicist and writer. (1823 – 1896)
Klanac
Upon entering Klanac from Pazarište direction, there is the parish curch of the Assumption of the Holy Virgin Mary built in 1837.
Lika River Canyon, Lake Krušćica
Krušćica Lake dates from 1971 when the dam was built in the lower part of the Lika River course. It acquired its name from Krušćica village which was flooded.
Rizvanuša
Adrenalin Park with many attractive and unique adventure activities.
Rizvan City, adventure-excursion centre not far from the city of Gospić in a small and typical Lika village called Rizvanuša in Velebit Nature Park.
http://www.adria-velebitica.hr/adrenalinski-park
Jadovno
Shrine of Mary the Assistant
http://jadovno.hr/aktivnosti/
Pazarište
Beer Brewery (Velebit beer)
Velika Plana, 10 km from Tesla's birthplace
Indian village
http://www.lindenretreat.com/