Back
CYCLING - Lovinac
Cycling is the best way to visit the Lovinac region. A number of drawn cycling trails along with some trekking routes are ideal for a recreational vacation outdoors.
The Lovinac-Smokrić Trail (1) starts at the old mill and leads to Vraničko Field following the course of the Suvaja River. The trail further leads by Vrijace Well to the bridge and the cistern from the 18th century, a protected cultural heritage. Keeping on the trail and slowly cycling across the old bridge we reach Sedlo viewpoint. It is possible to turn towards Kizića Cave (with prior announcement to Lito Tourist Agency to ensure the guides and the lighting). The descent to Lovinac follows the course of the Savuja River and passes by two springs, Virine and Studenac.
Cycling Trail (2) starts from Lovinac to St. Rocco on a drawn trail around Mount Cvituša and then to Lake St. Rocco with a well-arranged beach. Passing by the locality, the famous Spring of Wisdom is reached. It is a source of clean karst water for which this region is widely known. On the way to Balenove Plane, there are several viewpoints where one can relax and enjoy the panorama of the entire Lovinac region. On the way back to Lovinac there are several interesting places where one can stop and see Japunčići ethno house, Old Town Lovinac and the church of St. Rocco. The trail is marked completely with signs indicating significant locations and directions so one cannot get lost.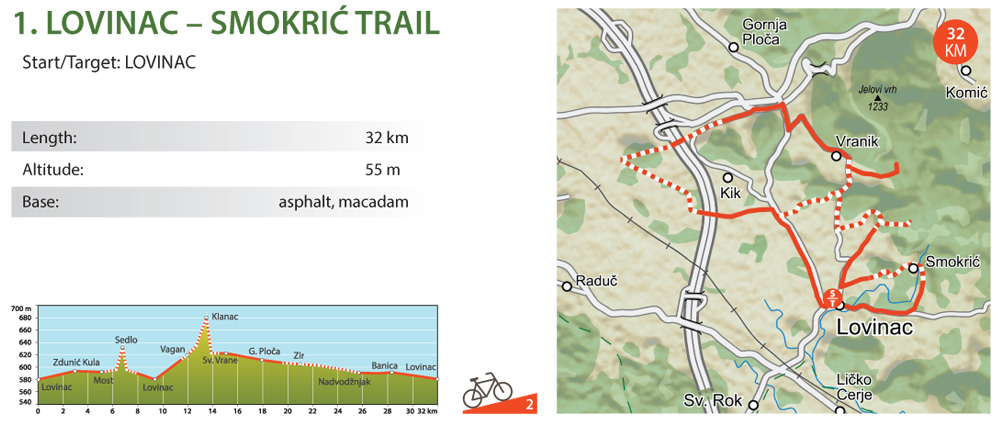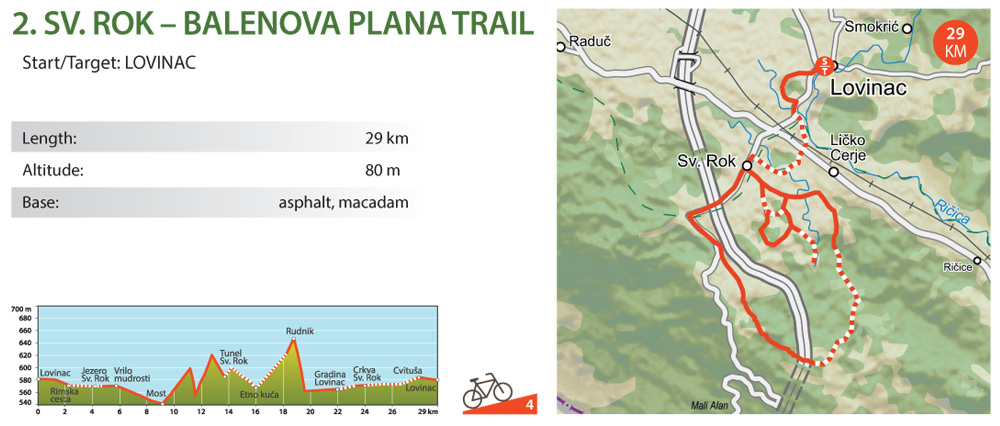 Points of interest
Lovinac, parish church of St. Michael the Archangel erected in 1704 and is among the most beautiful Romanesque churches in Croatia

Vranik, ruins of Zdunić-tower from the 18th century and the small church of St. Francis

Vranička Cave, archaeological site from the period when the old Japode tribe settled in this area more than 2,000 years ago

Rocco's Cave (visit with prior announcement through Lito Agency)

Archaeological site of the Japode settlement on Mount Piplica
Kizići, in the proximity of Vrijace – an exceptionally interesting well in live rock

Zir-rock and cave bearing the same name

Smokrić – Cistern made out of carved stone. Near the cistern there is an old 18th cent. stone bridge over Savuja River, and both have been inserted in the World Heritage Site