Back
CYCLING - Udbina
The circular Mountain Cycling Trail (1) crosses the Međugorje Plateau and Sarajevo Valley and during the ride offers a continuous change in scenery, from forests and groves to meadows. Besides the beauty of its scenery, the trail is diverse in the configuration of the terrain and therefore interesting for demanding cyclists. The trail is an interchange of descents and ascents (cross country) with macadam base up to the single track. Said briefly, this itinerary offers original experiences of pedalling along the real Lika wilderness.
The second trail is unique in the height of its ascent to 1,550 m above sea level, one of the highest roads in Croatia. The base (only macadam) is technically simpler but the difficulty is in the quite big height difference.
Combining mountain cycling and mountaineering (30 min. walk) one can climb to the highest peak Plješevica – Ozeblin (1657 m), from which a grand view extends on the Lika panorama, Una Canyon, Velebit, Dinara up to the peaks of western Bosnia. After a continuous climb, a long descent follows leading through the spectacular Kozja draga deeply carved between the mountains, and finally the open area of Visučko Field to the starting point. This circular cycling trail is intended for advanced recreation lovers and athletes.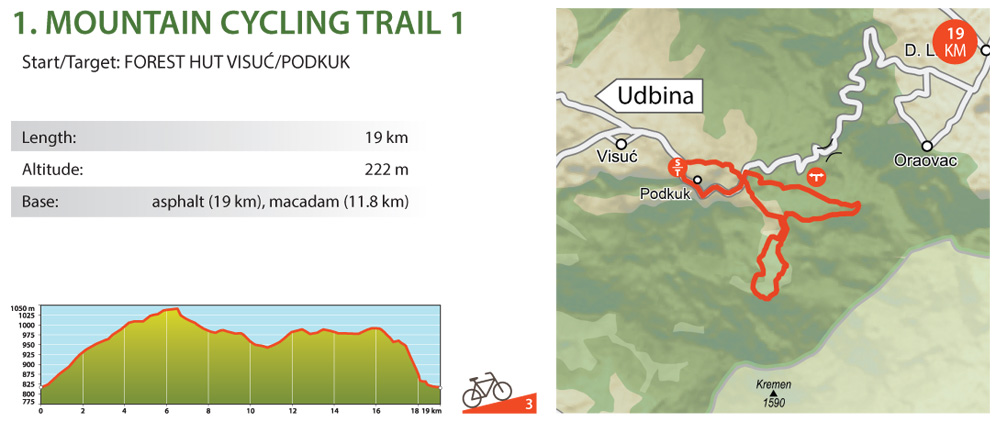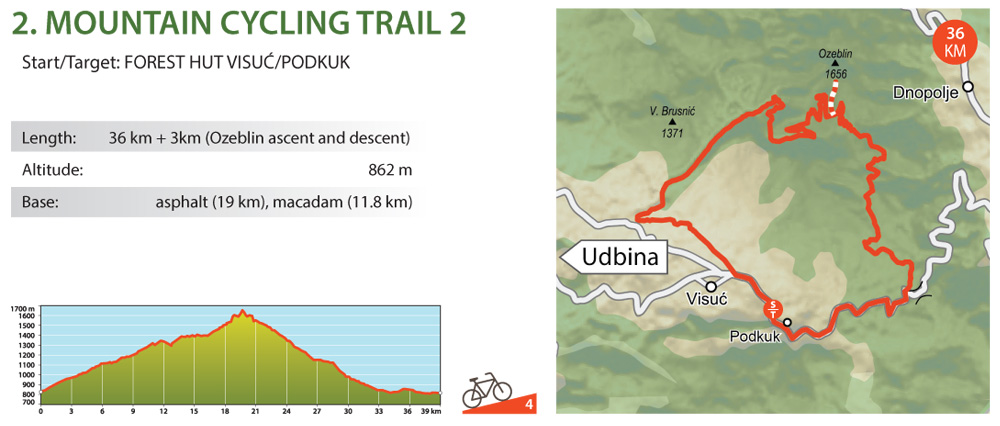 Note:
There are no permanent springs on this track so sufficient water is to be taken along during the summer months. The trail is excellent for riding even during the summer heat for the forest and the sea altitude render pleasant even the hottest days. The trail is impassable in the winter and very often even in the spring for its great quantities of snow in the top parts.

Points of interest:
Church of Croatian Martyrs
It was built according to the medieval church of the Holy Cross in Nin, known as the smallest cathedral in the world, but enriched with historical shapes of Croatian architecture. The date of the feast of the Croatian martyrs is the last Saturday in August.

Gradina is situated above the church of the Croatian Martyrs. It consists of a tower and defence complex dating from the 15th century. It stands at 840 m above seas level from which the entire Krbavsko Field can be seen.

The way of the Cross starts from the church of St Mark up to the church of the Croatian Martyrs, 2,100 metres in length, the last stop, the 14th one, being in front of the entrance to the shrine museum